Ethical Alternative Products has launched OmniFlex,
a unique joint support formula combining five highly researched ingredients shown specifically to positively impact joint structure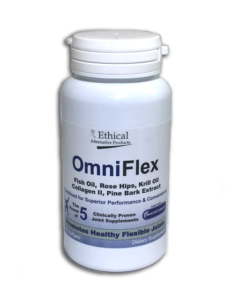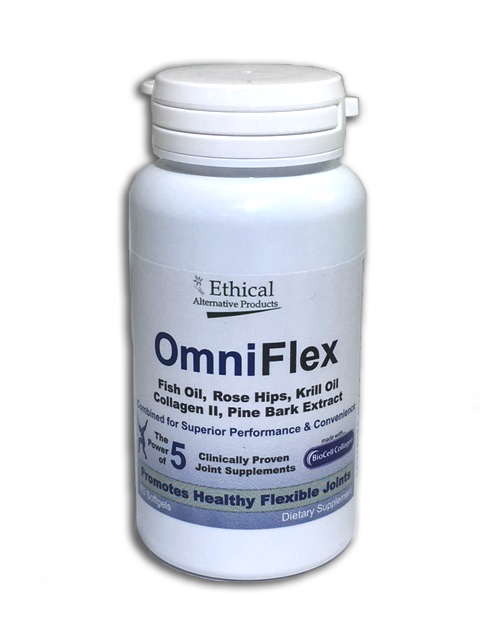 and function in easy-to-swallow soft-gel capsules. According to Gerald Bruno, Ph.D., President of Ethical Alternative Products, OmniFlex is not only unique in its combination, but affords customers an economically friendly dietary supplement. "The concept of combining these five ingredients is based on outstanding portfolios of research demonstrating the efficacy of each for supporting joint health. We are quite confident in the viability of use, efficacy, of this particular combination that we will be investing in a pilot clinical trial with others planned in the future to validate the results of OmniFlex."
Bruno and his team also surveyed buying habits in health food stores and pharmacies and took away with them the undisputable knowledge that consumers interested in addressing joint health and maintenance through supplementation are averse to taking several individual supplements to achieve desired effects. A majority of consumers sought combination products, which also are less expensive than purchasing several individual supplements , said Monica Adametz, CFO. The five ingredients in OmniFlex are marine-derived Omega 3 EFAs, rose hips and krill oil, all which help mediate inflammatory response to address pain; Biocell collagen type II, which stimulates collagen biosynthesis to support cartilage structure; and Pine Bark Extract abundant in oligomeric proanthocyanidins, a potent antioxidant. "
The launch of OmniFlex is timely for consumers as more people are wary of prescription COX-2 inhibitors, Bruno asserts. OmniFlex is an attractive choice for its targeted mechanisms of action, its convenience and its cost." OmniFlex is available in 60-count bottles.
Is A Scientifically Engineered Product
OmniFlex combines the latest research studies about effective joint health solutions with one easy to swallow gel cap.